In the summer of 2020, the corona pandemic meant that very many Norwegians had to replace travel abroad with a car holiday in Norway. Family after family changed their plans and were ready to explore Norwegian nature, but where were they going? And what were they to do on the road?
Circle K understood that in the summer of 2020 there would be even more Norwegians than normal who would drive across Norway. This represented a great opportunity; to attract new customers and help families plan their Norwegian holidays.
Circle K envisioned a campaign that would give their brand a boost in both attention and preference, and chose Schibsted Partner Studio as a partner. Two important challenges were identified: to ensure Circle K's sender identity and visibility in a landscape where several players would fight to communicate Norway holidays, and to strengthen the Circle K brand without lifting the industry as a whole. The answer to the challenge was a large content marketing campaign that was to highlight Norway's car holiday opportunities, at the same time as Circle K proved to be the most natural stop for families on a trip.
Campaign over twelve days at VG
The huge content marketing campaign consisted of seven articles and ten videos where we followed the trip to Norway to different case families in different parts of the country. Families with children came up with their recommendations for activities and sights in the area, and Circle K played a key role as the natural stop on the way. Employees in Circle K shared their best local tips, and through videos we were able to show off their facilities, healthy food selection and cozy seating areas.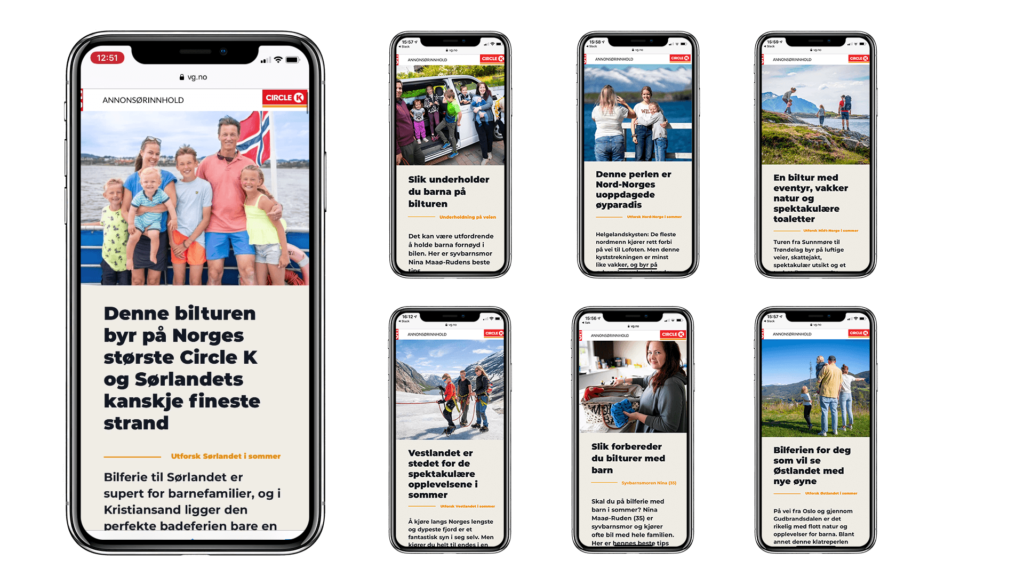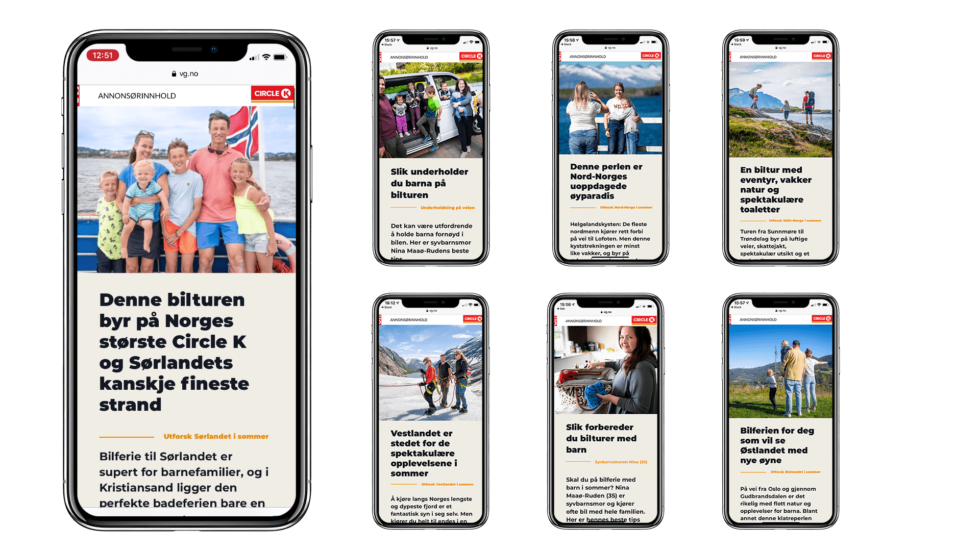 Everything was presented in a tailor-made Circle K design that gathered all the articles in a common "hub". Circle K's application "The Piston Hunt" and the newly developed "Travel Planner" helped keep the reader in the Circle K universe for a longer period of time. The content was distributed over twelve days in July, on VG.no's best advertiser placement, as well as in two print campaigns, in VG and A-magazine, respectively.
- We are difficult godt satisfied with the result
The campaign achieved 830,000 readings, 350,000 above the benchmark, and an average reading time of 65 seconds, 25 seconds above the then benchmark. The videos got close to 400,000 plays, and 30% saw the entire video finished, against a benchmark of 10%.
The Control / Exposure survey shows a big brand boost on all the most important KPIs for Circle K. The main goal - the assessment of Circle K as a family-friendly stop - increased by almost 30%. As many as 6 out of 10 answer that they become more positive about Circle K as a result of having read the content and half say that the articles make them want to stop at Circle K. The proportion who prefer Circle K has also increased by 17, 5%.
In July, Circle K experienced a 15% sales growth in the stores compared to July 2019. In addition, 500,000 viewers have seen Circle K's videos with local tips, and 600,000 have used the travel planner. All this happened with VG as the main channel for marketing.
Ann Helen Våge, Head of Market Development Norway in Circle K, says this:
- We are difficult godt satisfied with the result and experience that the campaign has delivered on both the target group and KPIs, which is reflected in good feedback from customers, high click and read rates and a solid bottom line in store.
Schibsted is one of Norway's leading suppliers of content marketing. Read more about our products here