In the autumn of 2021, we decided to address an old myth that newspapers no longer have any effect on home sales. In this analysis, we look at homes sold in the first half of 2021 in Hordaland, Stavanger, Sandnes, Sola and Randaberg and the housing ads were shown in Stavanger Aftenblad, BO, Bergens Tidende and BTs Hus & Hjem.
Our survey shows, among other things, that homes that are advertised in the newspaper are sold faster, achieve a higher price than the suggested price and that the advertising gives a higher return than expected for the seller.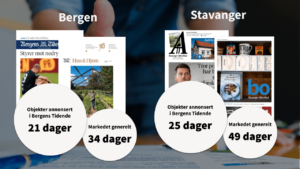 Newspaper advertising means that homes are sold faster
The study documents a record high turnover rate for homes advertised in Bergens Tidende and Stavanger Aftenblad. In both cities, over 80% of the properties were sold before 25 days had passed. This is very good news for you who are selling a home. The average in Bergen for the market in general is 34 days, and in Stavanger it normally takes a full 49 days to get sold.
Newspaper advertising provides a higher return
Of the home sellers, 49% in Stavanger and 59% in Bergen say that they achieved a higher price than expected. This is 5% higher than the market in general in both cities.
The study shows that newspaper advertising has a positive effect, regardless of housing type, price and square meters.
See our newspaper formats and prices here >>