BRAV owns and manages the brands Swix, Toko, Lundhags, Ulvang and Helsport, in addition to running skisporet.no. The company's vision is to make dreams come true for its customers.
To reach the Norwegian people with their message, BRAV collaborates with Schibsted, and uses Admarket for advertising.
Christophe Pons is Brand Marketing Manager for Ulvang, and swears by Ulvang when he is out on a trip! Since Admarket's launch, he has bought advertising campaigns on Norwegian media in the self-service solution to market the hiking outfit Ulvang.
He emphasizes the simplicity and transparency that makes him return to self-service time and time again:
The self-service solution Admarket makes it easy for advertisers large and small, to reach out with their message to the Norwegian people in a safe and transparent way.
Another reason why Christophe buys ads on the platform is because he is assured of successful advertising services.
Schibsted proves once again that they are a horse's head ahead of the market when it comes to user-friendly and effective advertising services.
More flexibility
Fredrik Olsen, who is Key Account Manager and customer manager for BRAV in Schibsted, highlights the good collaboration they have. Fredrik has given the customer a good introduction to Admarket, which means that they have become more independent and can order on their own and have access to the campaign reports at all times.
- That way we get more time to work together with creative and proactive processes.
Many of the customers who collaborate with Fredrik have used Admarket.
To the question of why customers choose self-service, he answers:
The intuitive booking process makes it all simple and clear from start to finish. The flexibility the tool offers by being able to book a campaign, among other things, but waiting to upload material at a later date is also a welcome opportunity for the customer, he adds.
Do you also want an introduction to Admarket with one of our customer advisors?
Send us an email at admarketnorge@schibsted.com and we will fix it!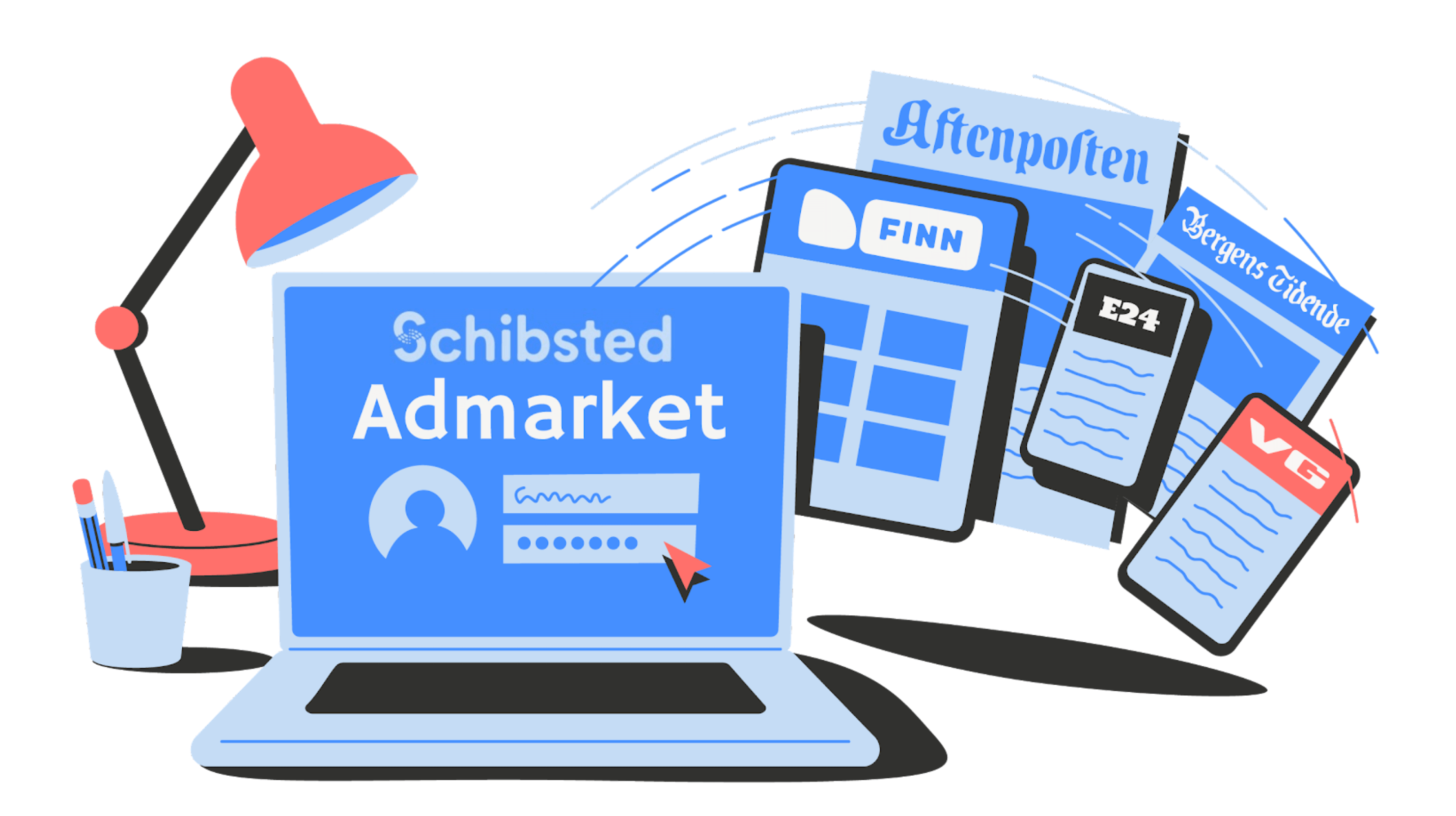 Why is the website you choose to advertise an important factor for success?
There are several reasons to advertise your business. You may have a product you want to sell or you want to build a stronger brand. But, what is the most important thing to consider when choosing where to place your ad?
Choose sites that you trust
No matter what your goal is with advertising, it is always a security to advertise on trusted sites. In Aftenposten, for example, there is a focus on high editorial quality. If you advertise in Aftenposten, you can be sure that your brand will be visible on a website with serious content.
Think about the number of users of the site and your target audience
If the site you choose also has many users, you are well on your way. However, here you should think about whether users of the site are within your target audience. If you book your ads in Admarket, you can easily choose between some of Norway's most used websites, and the most relevant target group for your company.
Do as BRAV and find your customers on some of Norway's most read websites.