Written by Nina Lillebo and Ranveig Bråtveit, Schibsted Partnerstudio
Despite the downturn, we dream of the next holiday, but there will be some changes in booking habits and holiday types. Here you get an insight into Norwegians' holiday plans for Christmas, winter - and next summer.
Since this spring, consumers' optimism for their own economy has been declining. Parallel to this, pessimism has increased. In October, this stabilized, and we have had neither more pessimists nor fewer optimists.
Schibsted's latest population survey shows that the youngest (under 30) and the oldest (60+) are most optimistic about the economy for the next year.
We see the same tendency in consumption of goods and services in December. The proportion who are thinking of reducing their consumption is no longer increasing and is now at the same level as in September. It is the 18-29 age group that stands out most clearly and expects to increase consumption the most in the next month.
37% will go away in December
We have taken the travel pulse for December, and 37% of the Norwegian people say they will travel away this month. Here, the majority are in the 18-29 age group, followed by the 30-39-year-olds. Airplanes, followed by cars, are the preferred means of transport.
Norwegians are born with skis on their feet and many look forward to the snow. But uncertain weather and a lack of snow can make other forms of holiday more attractive.
26% of those questioned say they are planning a skiing holiday in Norway this winter, and only 5% outside Norway.
This is supported by Kantar Sifo's survey from September, which shows that 9 out of 10 will choose the Nordics if they are going on a skiing holiday.
No one can take away our holidays, travels and experiences
Despite a difficult time, only 10% want to ditch the holiday, but there are still more who say they want to make some changes to tighten the holiday budget. For example, by traveling to countries with lower prices. While 26% say the economy will not affect their choices at all.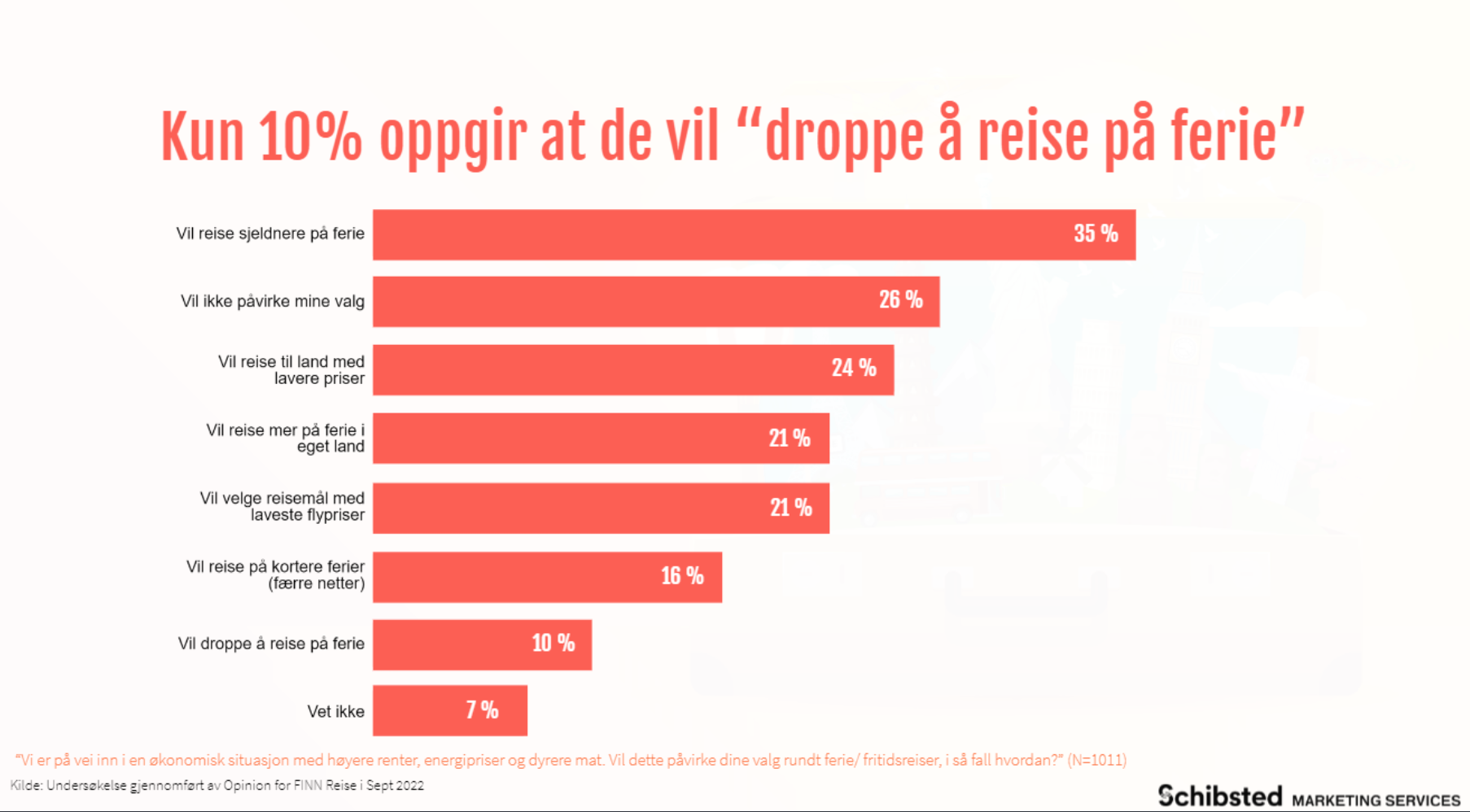 We also see that the oldest are least affected by the economic situation. Only 3% would cut the holiday completely, and a whopping 44% state that it does not affect their choice of holiday.
Summer 2023 – Planning early but booking later
The time Norwegians spend on FINN Travel has doubled in the past year. Consumers spend an average of 29 minutes on the platform, which is an important source of information, inspiration and comparison. At the same time, only 2% have booked the summer holiday for 2023, plus 5% who state that they have booked parts of it, according to Schibsted's population survey. Statistics from FINN Reise also shows that 70-80% of all searches have departures in the next 3 months.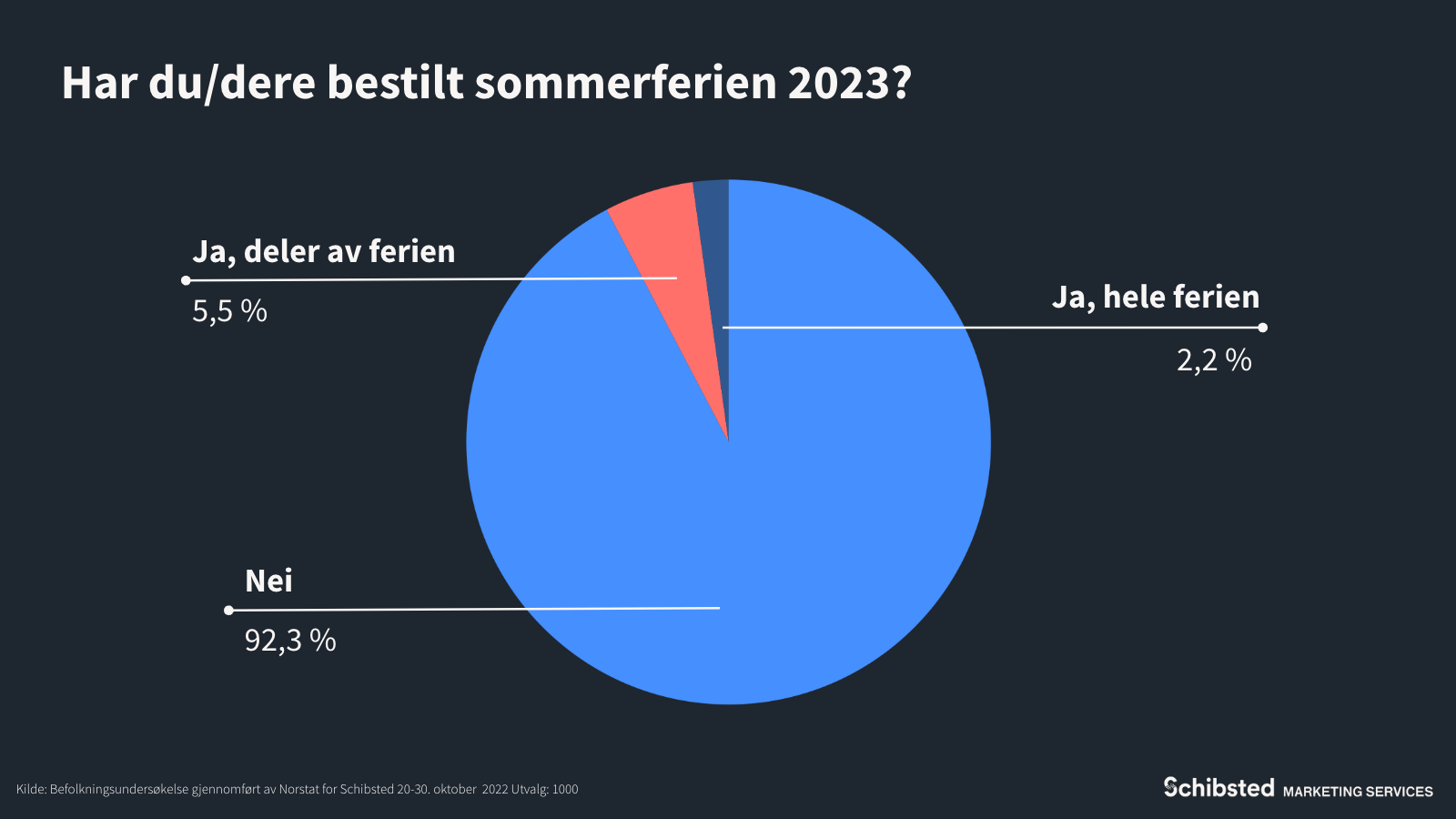 This means that we spend more time in the dream phase, and the search for inspiration begins early. We search, plan and eagerly look for our next destination. As many as 32% say that they deliberately book their summer holiday later than before, while 30% say that planning starts early.
That is why it is still important to inform and inspire customers well in advance so that they have good reasons to book their next holiday from you, both this winter and for the coming year.
Are you curious about the latest updated figures from FINN Travel? click here