The beginning of the year has traditionally been the peak season for booking summer holidays. But how are Norwegians planning for summer 2023?
Are we planning for a holiday at home or abroad? Should we cut our holiday budget or set aside money for experiences? There are many questions. The market is changing, and uncertainty is high among many travel operators. However, we have seen signals from the market that there are more than just dark clouds on the horizon. Here we share our insights on planned spending, summer travel plans and the most popular searches on FINN travel.
2023 so far is marked by increased costs for electricity, food and fuel, higher interest rates and war in Europe. Norwegians' consumption is affected by this, but we also see that optimism about household finances over the next year has increased by 4 percentage points from September 22 to January 23.
When it comes to travel, we will still adjust our spending and cut costs where possible. Our December population survey found that around 40% say their holiday budget is unchanged despite the current economic situation, while the remaining 60% will try to save money on their holiday in some way, or choose to just stay at home (7%).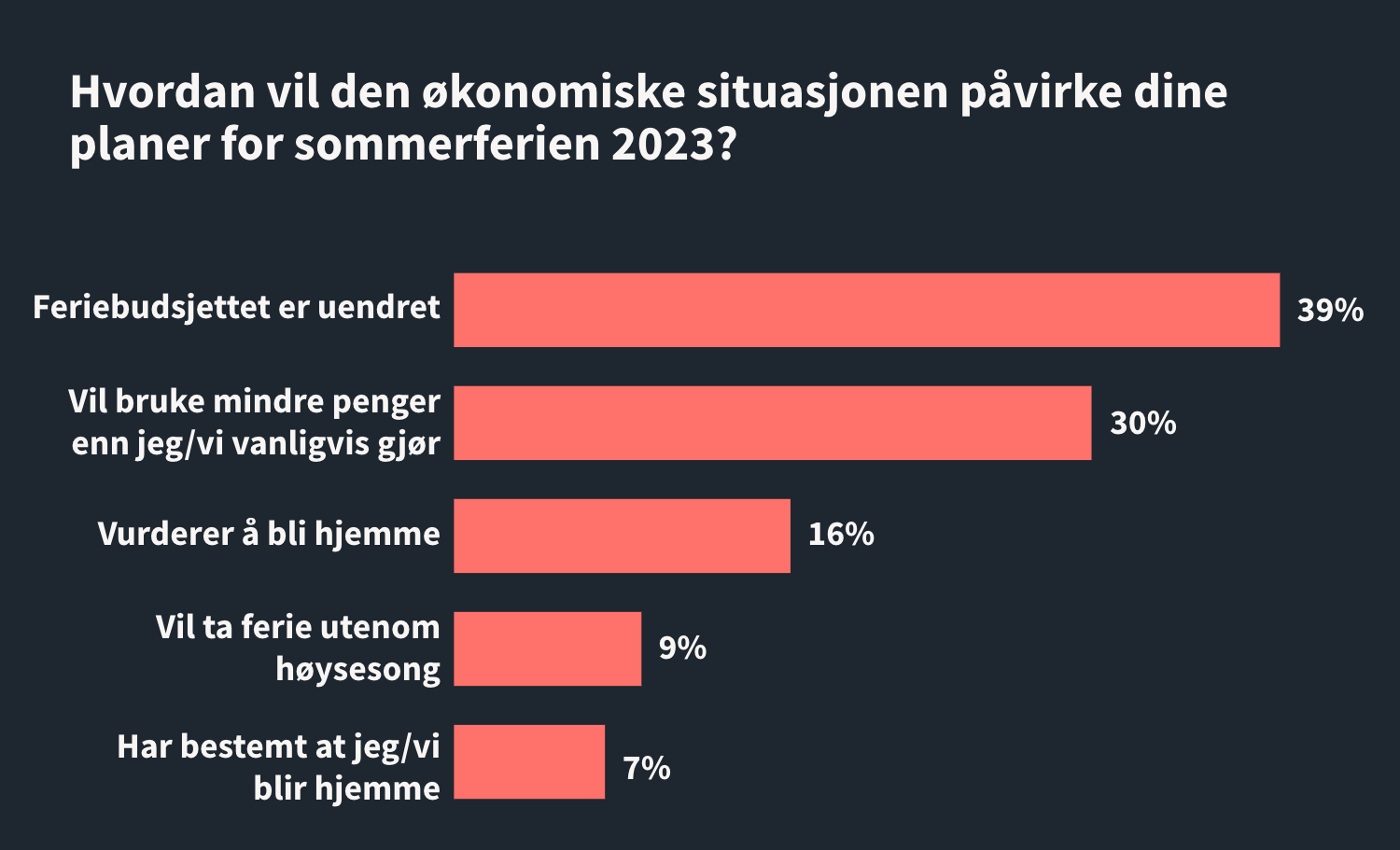 Source: Survey conducted by Norstat for Schibsted 22-31 December 2022 Sample: 1002
Insights from Virke's Travel Pulse 2023 show similar results:
"The results show that many people are more aware of their own consumption and their budget is apparently tighter than before. We choose safe and well-known holiday destinations that have also been popular in previous years. The results indicate that consumers are more aware of the cost and price of their holidays than in previous years. This is reflected in their choice of destination, spending, choice of destination and location and choice of accommodation."
Source: Virke Reisepuls 2023
Many are planning, but few have booked
After a few years of not being able to choose where and when to go on holiday, there is no doubt that we Norwegians dream of going on holiday in 2023. In our population survey from January, only 5% say that they will not have a summer holiday this year.
As many as 45% of respondents say they are in the process of planning their summer holiday, but few have got as far as knowing where and when. 77% of Norwegians in total say they have not booked any of their holiday yet, and as many as 83% are aged 30-39, i.e. families with young children. The clear trend is that many people are in holiday planning mode, but much of the actual decision-making remains to be done. So there are opportunities to convince, and visibility will be important going forward!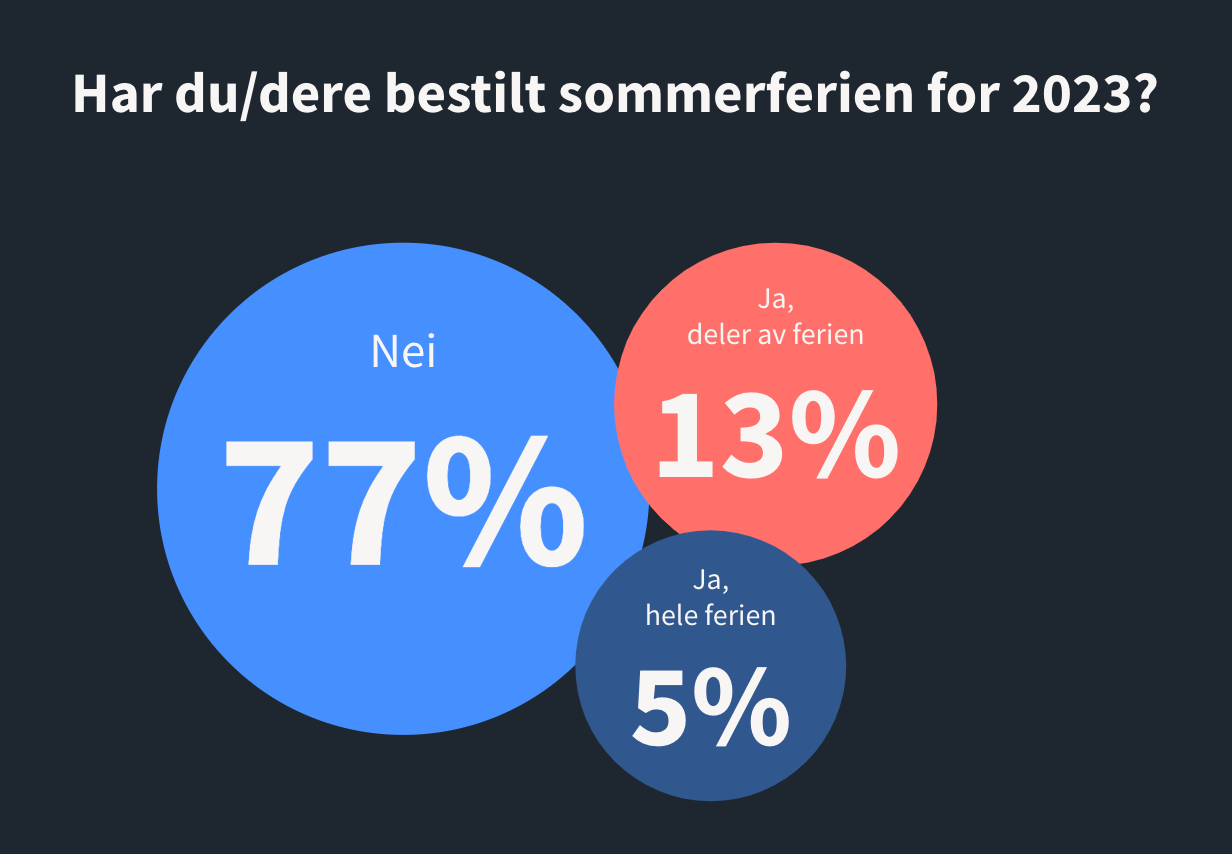 So what are the reasons why we wait to book? Here, 42% say that the main reason they haven't booked anything is that they don't know when or where they're going on holiday. 28% say they are waiting because of uncertainty about their personal finances.
Source: Survey conducted by Norstat for Schibsted 19-30 January 2023 Sample: 1000
We seek the familiar and the dear
On FINN Travel we also see that interest is high, and via the travel search we see high demand for travel in 2023. In January, we have set new traffic records on several of our verticals (e.g. flights, hotels, car rental and holiday homes), and in total had a 30% growth in unique users from 2019. This trend continues into February. It is primarily travel for the next 3 months that Norwegians are searching for in January, but we also see that searches related to the summer holidays have increased steadily in recent months.
Uncertain times may make people look more towards the traditional and familiar, and we also see this trend when it comes to choosing a travel destination. Topp 3 destinations on FINN Travel total for the next 3 months is Norway, Spain and the UK, while for the next 6 months we find Spain, Greece and Norway at the top.
For package holidays, the top list looks like this:
1. Spain
2. Greece
3. Turkey
4. Poland
5. Italy
6. Croatia
Industry voice of the month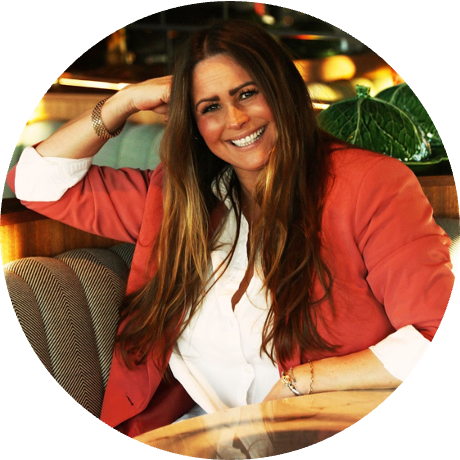 Victoria Skaarer - Marketing Manager Clarion Hotels Norway
The changes in the market and the uncertain economic times make it more difficult to plan campaigns, what steps have you taken at Clarion to adapt?
The timing for booking has changed a lot and the lead time has become much shorter. We at Clarion Hotel® Norway changed our strategy in 2022 and focused on strengthening our brand, being present in the choice set and focusing on our concepts that will make us the preferred chain in our target group. We have learned that working with few but good concepts is better than many and defuse. Quality, rather than quantity, plain and simple.
We started this strategy in 2022 and will continue with it in 2023. The results from 2022 were an all-time high for several of the Clarion hotels in Norway and we were above the benchmark in occupancy and room rate on a national basis. Among other things, Clarion Hotel® The Hub had record revenue in Nordic Choice Hotels with 565 million in revenue, despite the fact that there were still strict restrictions for much of Q1. Clarion Hotel® The Hub, located in Oslo, had an average occupancy of 77.3% (benchmark Oslo 61%) and an average room rate of 1 668,- (benchmark Oslo 1 350,-).
Source: Hotelloversikten, Annual Report 2022