Not as difficult to find qualified labor, but unemployment is still low in Norway
Earlier in May, Schibsted and FINN presented new figures from the 2023 job survey. After a period of very low unemployment and the strongest competition for labour in 15 years, the labour market is now returning to normal in many industries. Nevertheless, competition for the best minds in many industries remains strong, and unemployment remains at a low 1.7%. It is therefore more important than ever for companies to present themselves as attractive employers in order to attract the best candidates.
"Optimism continues to increase among employees," says Ove R. Christensen, Insights & Effects Manager at Schibsted. "Few people fear losing their jobs, and most believe it will be easy to find a new job.
Together with colleague Birgitte Oftedal Sjøthun, he has spent the last few weeks analyzing Norwegians' thoughts and expectations of the job market. The figures show that there is probably a pent-up need to move around in the labor market. The pandemic meant that some people had to find a new job involuntarily, and some stayed in their position longer than they had originally planned. Now that the market is better, many want to return to a type of position they lost during the pandemic, while others dare to take the plunge and seek new opportunities elsewhere.
Godt working environment, development opportunities and good leadership are valued
"The drivers for choosing an employer are relatively stable," says Oftedal Sjøthun. Godt working environment and good salary conditions are among the drivers that most people rate most highly," she continues, "but the new response option Good management is actually the second most important.
It is also still the case that those who have recently changed jobs, or have considered doing so, place far more emphasis on good development opportunities with their new employer. Christensen also reports that more and more employees are concerned about flexibility, work-life balance and working from home. These drivers are increasing in importance, along with good pay.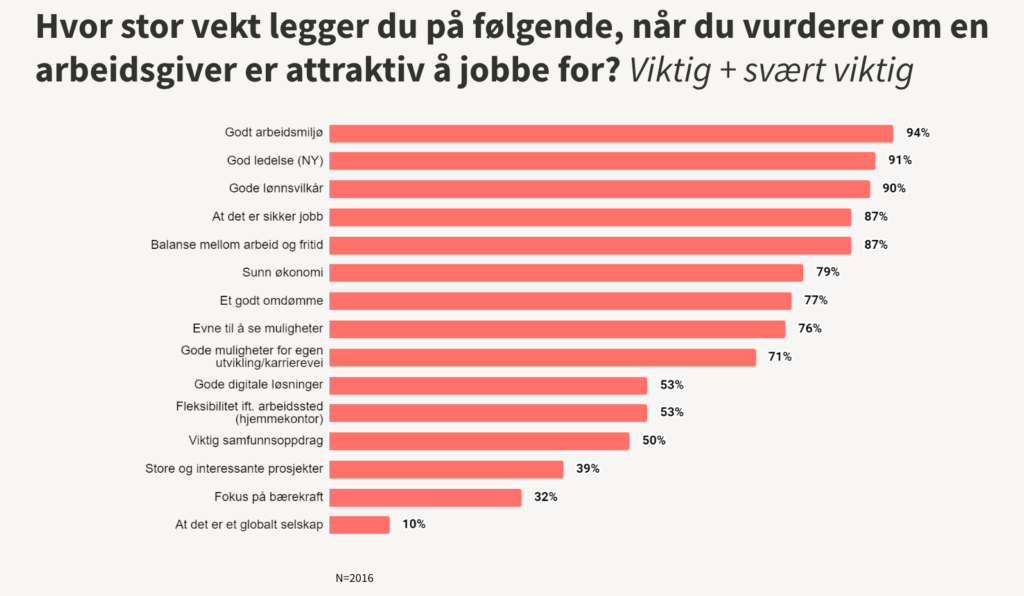 In a period when most people's purchasing power is declining, it's not surprising that the focus on salaries is increasing, but at the same time, more and more people want higher salaries in addition to a better work-life balance.
As an employer, it's useful to see which drivers are most important to potential employees when assessing the attractiveness of different employers, but it's equally important to figure out how to communicate this in a relevant and credible way. What does it mean that your company has a godt working environment? How can you show that your company has good management, in a way that matters to the employee? This is the key to good employer branding.
Last but not least, remember that your communication has two target groups. The primary target group is of course the candidate you are hiring, but almost as important is the network around the candidate. In fact, it is these that have the greatest impact on the candidate's perception of the company's attractiveness as an employer.
If you would like a review of the results from this year's survey, please contact Ove R. Christensen (ove.r.christensen@schibsted.com)
--
The survey was conducted by Norstat on behalf of Schibsted