Orange, eggs, lamb and skiing...what will it be? EASTER! At least that's what most Norwegians associate with Easter in our population survey from February. Regardless of whether you will be at home (like 56% of Norwegians) or at the cottage (26%) at Easter, there is no doubt that times are getting brighter outside, but also when it comes to consumer sentiment.
The first months of the year have shown a positive trend in terms of Norwegians' optimism about their household finances in the coming year, and for the first time in 8 months the figures now show a significant positive development in the proportion who are positive about their household finances in the coming year. In February, 34% are optimistic, while 23% are pessimistic.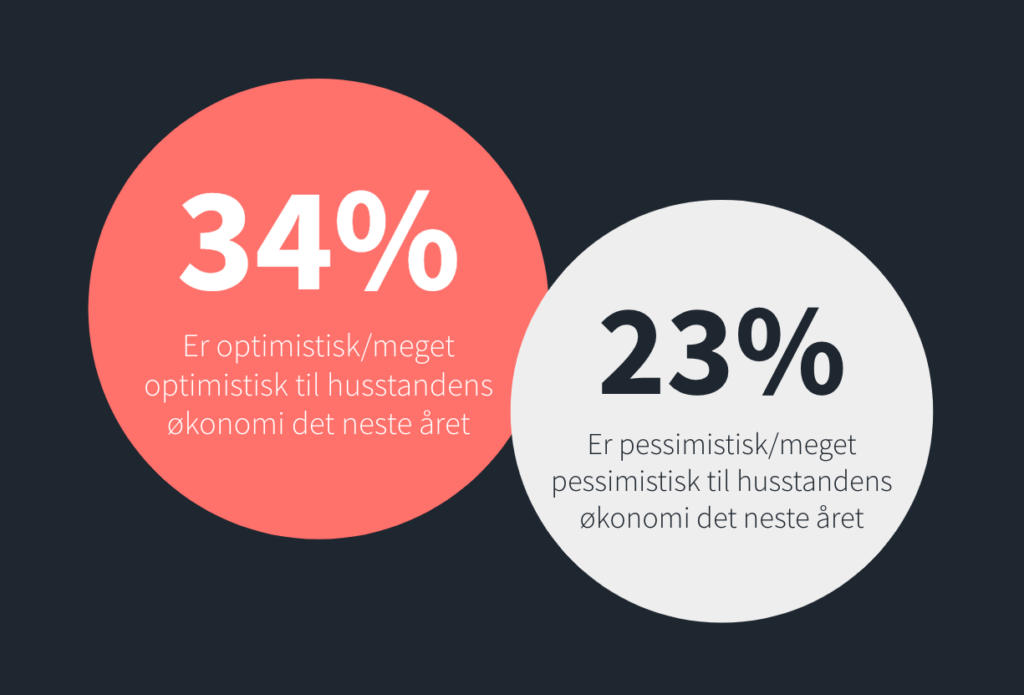 We see the same positive trend in the share of people who say they will spend less money on goods and services, and this share drops by as much as 11 percentage points. We then arrive at a full 60% who state that their consumption will be unchanged or even higher than usual (6%) in the next month.
But we still have concerns...
Although the outlook for the future is brighter than in the past, there is no doubt that there is still unrest in the world around us and this is causing concern. People are most worried about war in Ukraine (66%), high food prices (61%) and high electricity prices (58%). Concerns about the war and food prices have remained relatively stable since last winter, while concerns about high electricity prices have fallen by -12pp since last winter.
When it comes to what will most affect people's consumption in the future, high food prices (56%), high electricity prices (52%) and increased interest rates (38%) are at the top of the list. Although the figures remain high, there has been a decrease in the number of people who think these factors will affect their spending since last winter.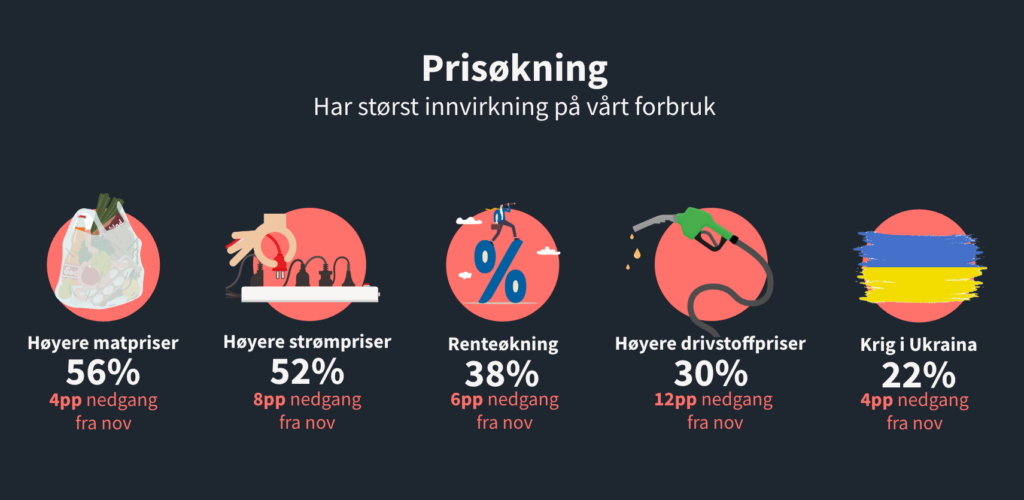 3 out of 4 respondents say that one or more factors will affect their consumption to a great or very great extent in the future, so there is no doubt that more people will have to take small or large steps to make ends meet. When we ask what they want to save money on, the products and services that come out highest are restaurant visits, clothing and shoes, furniture and interiors, takeaway, cultural experiences, travel and groceries.
We must not forget sustainability!
In our monthly surveys we also cover topics other than consumer sentiment and this time we want to highlight some insights on sustainability. 44% say that sustainability is a topic that concerns them to a great or very great extent, which is a slight decrease compared to the same period last year (-2pp). Women and those aged 18-29 are the most concerned about sustainability.
In addition to measures that people can take themselves to live more sustainably, many are also concerned that suppliers focus on this. The products/services where this is most important are agriculture (60%), fisheries/aquaculture (55%), public transport (53%) and groceries (53%).
Want to know more about our monthly population surveys?
Get in touch with your contact person at Schibsted.
Sources:
Survey conducted by Norstat for Schibsted January 19-30, 2023 Sample: 1000
Survey conducted by Norstat for Schibsted February 17-27, 2023 Sample: 1000